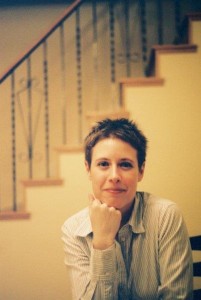 Cecilia Livingston is in the second year of the M.Mus. Composition program at the University of Toronto but maintains her sense of humour. She has studied with Christos Hatzis, Alexander Rapoport and Alexina Louie and this year is studying with Norbert Palej. Persistent influences include Bach, Crumb, Schafer, Alice Munro, Ligeti, Glass, Anne Michaels, Nono, Gesualdo, Pärt, T.S. Eliot, Takemitsu, Palestrina, Homer, Berg… but in the end it all comes back to Shostakovich and Radiohead.
Her work has been heard at the University of Toronto's New Music Festival and the Scotia Festival of Music, and her new chamber orchestra piece Dream will be premiered by the gamUT ensemble this winter. Her research on the sublime and the grotesque in twentieth-century opera is supported by a 2009-2010 SSHRC CGS-M grant, and her article "A Leap of Faith: Composing in the Wasteland of Postmodernism" will be published in Tempo, Cambridge University's journal of contemporary concert music, this spring.
Cecilia sang for many years with the MacMillan Singers and the choirs of the Church of St. Mary Magdalene; she is honoured to work with Cantabile this year.