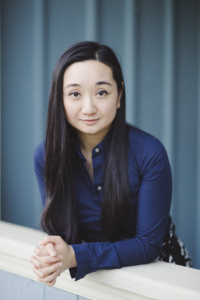 Founder and Artistic Director, Cheryll Chung is a conductor, pianist,  singer and vocal coach from Toronto, Canada. She has been featured in Chorus America issue of "Voices", Toronto Star, and the Whole Note magazine. She holds a Masters of Music in conducting from the University of Toronto, where she studied choral conducting with her mentor Dr. Doreen Rao and Orchestral Conducting with Raffi Armenian.
Cheryll was twice recipient of the prestigious Elmer Iseler Conducting Fellowship in her Masters program, where she had the privilege of working with the Elmer Iseler Singers and Lydia Adams. She received the Ellen Battell Stoeckel Scholarship from Yale University's School of Music in 2010 when she attended the Norfolk Conducting Institute as a conductor and singer. She has also received the John O. McKellar Scholarship for her work in music education and choral studies.
She is currently on faculty at the Royal Conservatory of Music and conducts Taylor Academy Choir, part of the Phil and Eli Taylor Performance Academy, the Elementary Choir, and Adult Community Choir.  She was resident conductor of the Heliconian Choir and Orchestra.
As a pianist, she has won awards and performed as a soloist and collaborative pianist . Cheryll has studied with Boris Lysenko, Marina Gerginas and Lynda Metelsky.
She was a master class conductor at the Oregon Bach Festival, and Toronto Bach Festival where she worked with Helmuth Rilling, and the Norfolk Conducting Institute where she worked with Simon Carrington. She was also a master class conductor with the Canadian Chamber Choir (Julia Davids), and Sarteano Conducting Conference (Brian O'Connell, Simon Carrington). Cheryll has sung in MacMillan Singers and the Bach Festival Singers with the Toronto Symphony during her studies at the University of Toronto.
Her dedication to education and working with children led her to work with Zimfira Poloz by assistant conducting and vocal coaching the High Park Children's Chorus – now known as Young Voices Toronto (2006-2009). She was the conductor of the St. Clements orchestra (2004-2006), York Region Children's Chorus and the University of Toronto MacMillan Chamber Singers (2004-2006), and guest conducted community and regional choirs.
She continues to give professional development workshops with community ensembles, high school and elementary school choirs and orchestras.