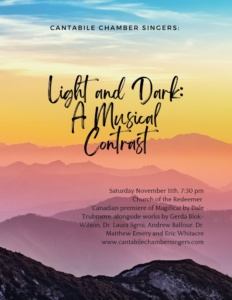 We are a couple weeks away from our first show "Light and Dark: A Musical Contrast", so the question is, do you have your tickets?
We will be collaborating with pianist Chris Au who will play with us for "Magnificat" our Canadian premiere, and also "Adonai" from Triumph of the Spirit by Srul Irving Glick. He is an amazing musician, who now lives in Toronto, originally from Australia.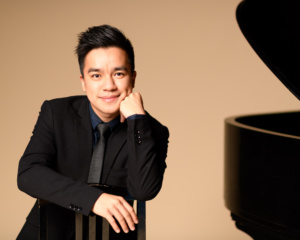 Chris is a lauded graudate of the University of Montreal and the Glenn Gould School of the Royal Conservatory of music. He has won mulitple prizes from international piano competitions and made his concerto debut with the Central Texas Philharmonic under Stefan Sanders last summer. He has studied with Steven Isserlis, Leon Fleisher, Robert McDonald, Menahem Pressler, and Marietta Orlove in masterclasses at esteemed institutions such as Banff Centre, Lunenburg Academy of Music Performance and Orford Musique.
Here is a ticketing link: https://www.eventbrite.ca/o/cantabile-chamber-singers-7591490033
Please bring some friends to our season opening concert, and we are looking forward to seeing you soon on Saturday, November 11th, at 7:30 pm!